The world is in mourning today as Maya Angelou, the voice and wisdom of America, has passed on from this life. The wisdom she has spread for the last 50 years cannot be measured.
She came into my life through her most famous work, "I Know Why The Caged Bird Sings" which was the title of her first memoir. She would go onto write 30 books, countless poems, and become the first African- American female director.
What gives me joy at this moment is the reality that Dr. Angelou lived her life fully. She didn't keep things to herself. She spread her love and wisdom, to many in my generation who consider her the mother or grandmother we needed. Dr. Angelou said, she always wanted a daughter. I think she had a Nation full of them who she gave sage advice, love, and hope through her life and her words.
Her poem, "Phenomenal Woman" was among my favorite poems. Through it, she taught me being a woman is great.
What Maya Angelou became was nothing short of a miracle. Considering the many tragedies in her youth, it is amazing that she was not bitter, angry, or using those tragedies as an excuse to be less than who SHE wanted to become. If that is not a lesson for us all to learn, I don't know what is.
While we mourn her death today, we are well aware of the joy she gave during her life. The accolades and rewards heaped upon her were the only thing we could bestow upon a person who was in this world, but triumphed over the sorrow and hopelessness far too many are mired in.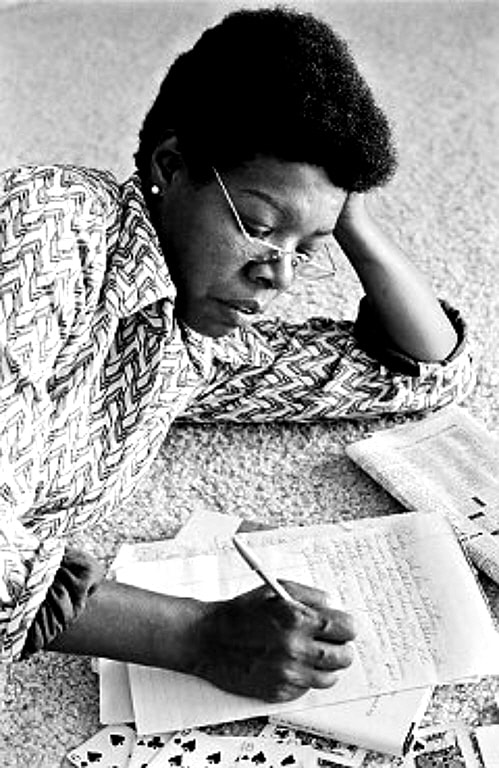 Still I Rise

You may write me down in history
With your bitter, twisted lies,
You may trod me in the very dirt
But still, like dust, I'll rise.

Does my sassiness upset you?
Why are you beset with gloom?
'Cause I walk like I've got oil wells
Pumping in my living room.

Just like moons and like suns,
With the certainty of tides,
Just like hopes springing high,
Still I'll rise.

Did you want to see me broken?
Bowed head and lowered eyes?
Shoulders falling down like teardrops,
Weakened by my soulful cries?

Does my haughtiness offend you?
Don't you take it awful hard
'Cause I laugh like I've got gold mines
Diggin' in my own backyard.

You may shoot me with your words,
You may cut me with your eyes,
You may kill me with your hatefulness,
But still, like air, I'll rise.

Does my sexiness upset you?
Does it come as a surprise
That I dance like I've got diamonds
At the meeting of my thighs?

Out of the huts of history's shame
I rise
Up from a past that's rooted in pain
I rise
I'm a black ocean, leaping and wide,
Welling and swelling I bear in the tide.

Leaving behind nights of terror and fear
I rise
Into a daybreak that's wondrously clear
I rise
Bringing the gifts that my ancestors gave,
I am the dream and the hope of the slave.
I rise
I rise
I rise.